This will be my first time linking up for Top Two Tuesday (even though today is Monday... The rest of today is full of more family time with Art, so this seems like a good short and sweet post for today and possibly tomorrow too). My friend, Taylor, has a
great blog
and this whole Top Tuesday think comes from there. So, let's give this a shot...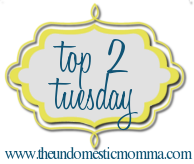 Top Two Drinks (Alcoholic or Non)
1. Diet Vanilla Dr. Pepper. Oh my goodness. I get a Route 44 from Sonic almost everyday. The terrible thing is that I was satisfied with 44 ounces... until I found QuikTrip's 52 ounce cup. What a curse. Good thing the closest QT is in Dallas, so I am only able to get the 52 ounce when I travel.
2. Orange Juice. I no longer let myself buy orange juice. Once I get it, I drink it all... no matter what brand. If I have oj around, I never drink water, hence why I no longer buy it. Avoid the temptation! I love pizza and orange juice together. Weird, I know.
I hope everyone has an excellent day!